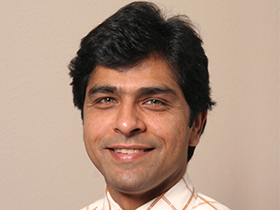 Uzair Chaudhary, MD, Medical Director for Community Medical Centers' Cancer Center, USA
Uzair Chaudhary, M.D. was named one of two medical directors for Community Medical Centers' Cancer Center in spring 2016.
Dr. Chaudhary is board-certified in internal medicine medical oncology & hematology, with an area of clinical interest in genitourinary oncology and gastrointestinal oncology. He attended medical school at Aga Khan University Medical College in Pakistan. He completed his externship in hematology & oncology at Washington University School of Medicine's Barnes Hospital in Saint Louis, Missouri. He completed his internship and residency at Indiana University Hospitals and a three-year fellowship at UCSF Medical Center.
Dr. Chaudhary is a professor of clinical medicine at UCSF and Chief of Hematology/ Oncology at UCSF Fresno Medical Education Program. He is Fellowship Program Director for hematology/Oncology at UCSF-Fresno. He is also director of University Oncology Associates and Clinical Trial Program at UCSF-Fresno.